Free Outdoor Bouldering Meet-up!
Summer is on the horizon and we can't wait to get pottering outside around at our favorite crags, enjoying some classic gritstone bouldering and grabbing well earned beer afterwards. Sound good? Well why not join us?
Making the leap to outdoor climbing can be daunting, maybe you are unsure where to go, don't have a
bouldering pad
, or just a little apprehensive?
That's why this summer Psychi are running free community bouldering sessions and everyone is welcome! We will be bringing along pads,
guidebooks
, plenty of psyche and know-how.
What will be going on?
Free Intro to Outdoor Climbing Workshop
An introduction to the world of outdoor bouldering. This will cover countryside access, ethics, looking after the rock, spotting and some climbing techniques.
Essential Kit for Everyone
We will be bringing along pads, guide books and chalk. So just bring your climbing shoes and smiles.
Lots of Psyche & Bouldering!
This is not just for beginners, come and say hello, share some psyche or get a spot on your project!
Leave the Crag Clean
We will bring litter bags and grabbers to ensure we leave the crag better than we found it.
Pub!
Join us afterwards to unwind with a cold drink at the pub.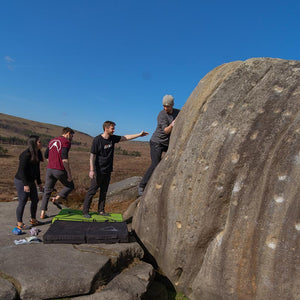 Saturday 12th August
Cratcliffe
Community Bouldering Meet-Up
10am - 2pm
Learn more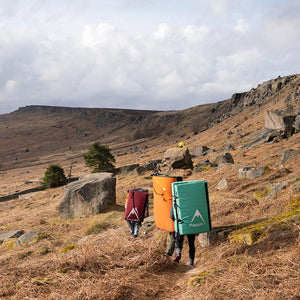 Sunday 17th September
Birchen Edge
Community Bouldering Meet-Up
10 am - 2 pm
Learn more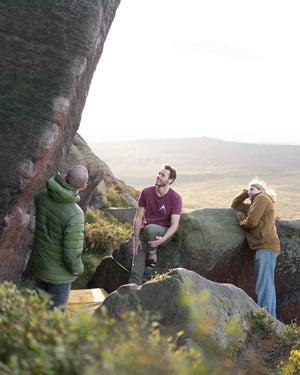 Saturday 30th September
Robin Hood's Stride
Community Bouldering Meet-Up
10 am - 2 pm
Other Information
DISCLAIMER
Please be aware this is a free bouldering meet up. Psychi are not responsible for any injury or accident that may occur during the meet up. Participation is at your own risk & discretion!
Any Questions?
Email: ben@psychi.co.uk
Phone: 0161 427 3466
Address: Psychi
, Unit 2+3
 Pennine View Estate
, Marple
, SK6 7JW, 
UK